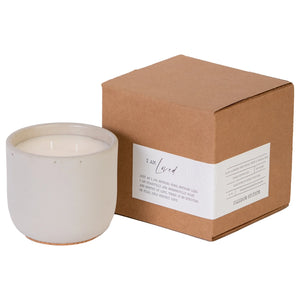 This 8 oz handcrafted concrete candle is made with soy blend wax and clean-burning cotton wicks and is hand-poured by women survivors.
I AM LOVED:
I AM Loved -  "Just as I am; nothing more, nothing less. I am fearfully and wonderfully made and worthy of love. There is no striving or fear, only perfect love"

Warm your heart and home with notes of black raspberry, rose petals, peony & vanilla bean.
I AM RESTORED:
I AM Restored "My journey to restoration is continuous and comes in stages. What I've learned through this process is the true gift that keeps me going. I am restored knowing what I've been through makes me who I am today.

Comforting notes of cardamom, creamy vanilla, cinnamon & peppercorn.