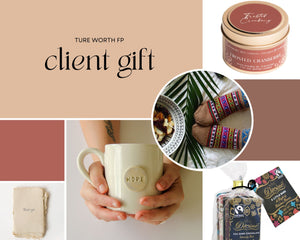 ***CUSTOM CLIENT GIFT BOX
1. KNITTED SOCKS - Every time you purchase you are helping to provide orphaned and destitute children in India with food, shelter, education, and clothing. artisans who hand Make these products ARE giveN Fair Trade wages
2. 12oz MUG - Prodigal Pottery is handmade by women fleeing homelessness, domestic abuse, and sex-trafficking outside of Birmingham, Alabama. THEY work to employ, equip, and empower women in need.
3. 4OZ CANDLE - Freedom Studios partnered with Non-Profit, Call to Freedom who helps survivors by providing safe housing, counseling, and treatment in South Dakota. Freedom Studios saw that a big part of survivors healing was to offer meaningful employment for the women. Each product created in the studio is lovingly made by a survivor.
4. 6 MINI CHOCOLATE BARS - Every bar you buy helps fight exploitation in the cocoa industry. Divine Chocolate and farmer co-op partners have shared a commitment to empowering women. Together, They support women in cocoa farming so they may develop the skills and confidence to grow better cocoa, build better communities, and thrive in business.